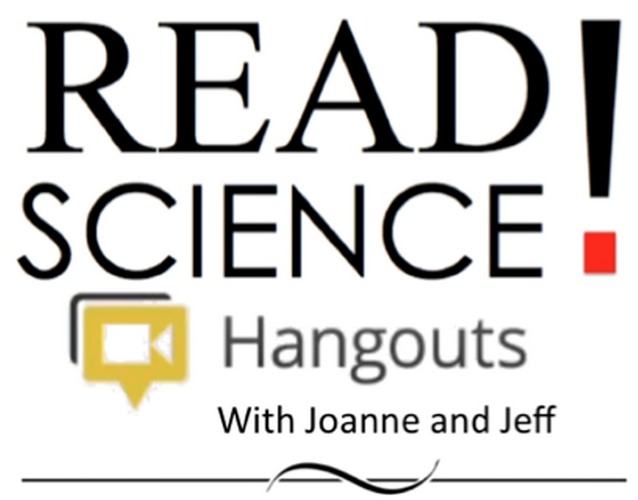 Are you an author or publisher interested in sending along a popular science book for review and consideration of author's appearance on Read Science!?
We would be honored to consider your publication! Thanks for thinking of us.
Please send book copies, one each to Joanne and Jeff, to:
Joanne Manaster
c/o School of Integrative Biology, UIUC
286 Morrill Hall
505 S. Goodwin Avenue
Urbana, IL 61801
Read Science FAQs
"Read Science!" grew out of a joint enthusiasm for books about science (and math, and engineering, and technology—and more!) and a desire to share that enthusiasm. We began the program in April 2013, recording over two dozen programs to date. Our varied list of guests has included Mary Roach, E.O.Wilson, Temple Grandin, Buzz Aldrin, Chris Hadfield, Dan Fagin, Marcus Chown, and Lynn Sherr. All episodes are permanently available at Read Science. One place we publicize activities is on our Facebook page, 

"Read Science!" is video series of conversations about science and communicating science. Our goal is to encourage general readers to read more about science and discover more about critical, analytical thinking. Hosts Joanne Manaster and Jeff Shaumeyer prefer a casual, conversational format. We talk with one or more authors about the subject of their writing to launch a wide-ranging discussion on broader topics of science literacy and communication.

 CSPAN BookTV or NPR are wonderful places to promote your books, and we hope you will be privileged in doing so. At Read Science, we pride ourselves on providing you a longer time to talk about your book and about science communication in general. Sometimes we have roundtable discussions with multiple authors who have written on similar topics. We also enjoy having your artist, photographer or co-author included in the conversation, because we believe these factors are essential in helping you get your message across. 

Programs last from 45 to 60 minutes, with approximately 15 minutes in the "green room" beforehand to get acquainted and check on any technical problems. We record the programs using Google Hangouts, free software installed in a web browser via Google Plus. Using the Hangout software means we don't have to be in the same location. Joanne often likens Google Plus Hangouts on Air as "Skype on steroids" because our show livestreams and then is archived permanently on youtube for future reference. 

First, via email, all participants in the hangout will agree on a time to participate. Traditionally, but not exclusively, we have had our hangouts on Tuesdays or Thursdays at midday, but we want to work with YOUR schedule the best we can, so your suggestions are welcome! Plan for slightly over an hour in total for the program, but if you are sure that you can only spare 30 minutes, then that is what we will work with. 

If you have never participated in a Google Hangout on Air, you will need to download the Google Hangout plugin into your browser. This is quite simple to do, though they may ask you to sign up for gmail (but maybe not, as parameters may change by the time you read this). The plugin can be used on any browser, but best results come when you use Google Chrome rather than Firefox, Safari or IE.

Guests will need to have a web cam, a microphone, and an internet connection; broadband internet connections will give the best quality video recording. Ear buds, ear phones, or some other in-ear listening device, rather than the computer's speakers, will eliminate echo problems. Try to pick a place with good lighting as well so you look your best. 

Joanne or Jeff will happily try a test run with guests who want to check on operations before a scheduled hangout. This generally only takes 10 minutes the day before (or earlier in the day). The more tentative you are about technology in general, the more highly recommended this step is. We will arrange a time for this via email. 

On the day of the hangout, between 20-30 minutes ahead of airtime, Joanne or Jeff will send notification that we are waiting at the hangout site. This will come either as an invitation on your Google Plus page if you have one and you are paying attention OR via a link that will be sent to you by email. Just click on that link and you will be joining the hangout. 

We will make introductions and check settings, lighting, and sound during this pre-show time which will NOT be airing live at this time. We will help you add your name to the bottom of the screen (called a lower third) and explain other features such as chat and the Q & A app if that was not covered in a test run the day before.

When we are ready and arrive at the time for the programming, the person who set up the hangout (usually Joanne) will press the button that only she can see that says "Start Broadcast" and you will see an indicator that the program is "On Air", at which time it is visible to the public. 

Hangouts on Air detect who is speaking (or making the most noise otherwise) and will automatically put that person front and center (usually), so if we want you to be front and center, say, for introductions, we will ask you to speak up and say "Hi". 

If we have enabled the Q & A app, the audience may submit questions by typing them in at the Google Event page. Joanne or Jeff may ask questions from this section. Additionally, there is a chat box that only members of the hangout can see where we can chat amongst ourselves if we like. 

The format is relaxed and conversational. We've really enjoyed all of our conversations and find we often have much more to talk about than we have time to do so. We've had dogs and cats appear on screen, phones ring, etc. No need to be embarrassed, the live element adds to the charm of the event!

We will end the hangout after about an hour (or the agreed upon length) when Joanne presses the "End Broadcast" button. The "On Air" button will turn off. 

At this time, if the event streamed from Joanne's Google Plus page (she has a large audience, so it usually begins there), it will be live on her youtube channel. Jeff then retrieves it from there to add to the Read Science! Youtube channel and then onto the RS website where it is stored as a video and also as an audio podcast.  We will send you the link shortly after the broadcast for promotional purposes.

A few factors, such as the time and date and the general interest in the author or book, come into play here. Past programs have had from about a dozen to 100s of viewers for the live broadcast. The real value is in the archive on youtube, where we accumulate more views. 

View numbers on the Read Science! youtube page can be deceiving because these videos originate on other youtube channels, either Joanne's or Scientific American's, so the total views would be the sum from two pages. This system may be amended at a future date. If you look at past event pages, you may see a section that indicates how many people watched the hangout. These numbers represent those who RSVP'd in the positive that they would watch, and the actual number who watched may be higher or lower than that.

Joanne will create a virtual poster like the ones below:

Then, Joanne will create a Google Plus event page (like this one) where the pre-hangout video will be embedded. The link from that page will be shared, along with the poster, to indicate where people can join us for the live event or catch the archived video. Additionally, there is a place for folks with Google Plus pages to RSVP to the event if the choose to do so.


We then share the event on social media far and wide several times ahead of the event. You will most likely be tagged in these shares so feel free to retweet and share the announcement yourself.

Once the event is done, we point people to the video so those who couldn't join us live can watch it at a later date.

Once you have been a Read Science! guest, we keep a close eye on what you do, and if you have another book or article out or are recognized for some accolade, we announce these on our venues, too. We delight in sharing anything that helps to promote science writers and their works in order to encourage the general public to read along with us. 

Joanne Manaster (@ScienceGoddess on twitter) is a cell biologist, on the faculty at the University of Illinois at Urbana–Champaign. Formerly a blogger at Scientific American ("PsiVid"), she is widely known for sharing her enthusiasm for science on social media, through book reviews, and on her website "Joanne Loves Science".

Jeff Shaumeyer (@Scienticity on twitter) is an experimental physicist who has worked in academic research (University of Maryland), been Project Scientist for a Space Shuttle experiment, wrote test software for a new Hubble Space Telescope computer, developed a satellite-communications network to collect data from oceanographic buoys, and now shares his enthusiasm for science through "Read Science!" and the nonprofit Ars Hermeneutica, Limited, which he founded in 2004.

Joanne and Jeff meet in person for the first time, November 2014

After knowing each other virtually for years, they finally met in person in November 2014.