I was given a great opportunity to visit with the team from EMD Performance Materials Group at the 2019 Consumer Electronics Show in Las Vegas January 8-11. (Full disclosure: the trip and this post were sponsored by EMD Performance Materials Corp., a business of Merck KGaA, Darmstadt, Germany).
When I'd mention in conversations that I'd be working as an influencer for Merck, practically every response would be, "Oh, healthcare?" and I'd have to correct them because understanding who Merck KGaA, Darmstadt, Germany actually is can be quite complex. You see, Merck KGaA, Darmstadt, Germany, holds the rights to the name and the trademark "MERCK" internationally except for the United States and Canada, where they operate in the biopharma market as EMD Serono, in life science as MilliporeSigma, and in the specialty chemicals and high-tech materials business area as EMD Performance Materials.. Part of my task as an influencer with EMD Performance Materials at #CES2019 was to raise awareness of Merck KGaA, Darmstadt, Germany's presence in the US.
Did you know that nearly every device near you has products from the @
EMDGroup, including LCD, OLEDs, semiconductors and pigments? Check out this image from #CES2109. Sponsored by EMD Performance Materials Corp., a business of Merck KGaA, Darmstadt, Germany #alwayscurious
In addition to these staple elements in every device created by companies around the world, the EMD Performance Materials Group has been innovating new products that they took the time to showcase in their colorful and attractive booth. One of these are liquid crystal windows that can adjust in order to attenuate light and heat coming through windows.
I had the opportunity to speak with Kai Beckmann, member of the Executive Board and CEO of the performance materials business of Merck KGaA, Darmstadt, Germany . I could have asked about the expansiveness of the products the company offered but instead decided to focus on the differences between being a scientist in academia versus in an industry like Merck KGaA, Darmstadt, Germany's . He first emphasized that innovation within industry is often done in collaboration with universities and in multidisciplinary teams (which is the way science is moving these days in all fields). Additionally, a significant amount of R&D is driven and done in concert with their customers. Rather than force an idea upon a customer, they listen to their needs and work together. The company is a leader in the market of LEDs, OLEDs and LCDs, touch sensitive screens, and even pigments in your phone case, so it is clear their methods and products are trusted.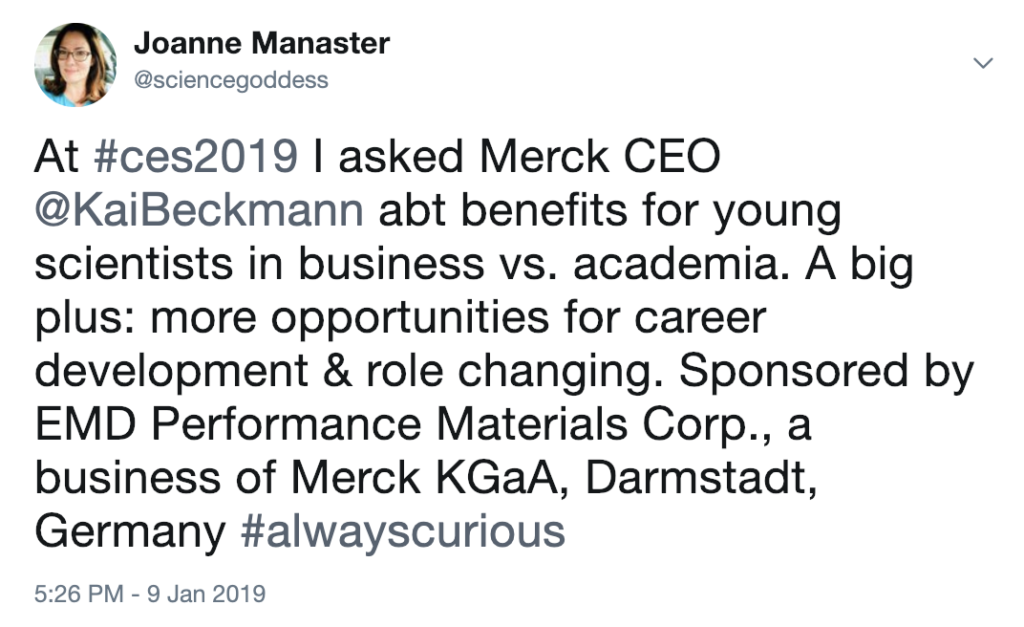 With the growing needs of machine learning and AI algorithms, semiconductor chips need to be faster, more powerful, and not use too much power. I knew that Merck KGaA, Darmstadt, Germany helped in the development of semiconductor materials and I was curious about the changes that would need to happen to create these high performance chips. I spoke with Adnan Nambier, Head of the KGaA, Darmstadt, Germany's semiconductor solutions business about making semiconductors more powerful by using a modified technique in their assembly that simplifies the usual patterning steps by using Directed Self Assembly (DSA) of polymers to create smaller features on the chip. Done with consistent chemicals and processes, there is a higher fidelity in pattern replication, and can save money for the customer. (Check out this somewhat longish video if you want to learn more about the science behind DSA.)
I want to wrap up my experience at #CES2019 with EMD Performance Materials by telling you that they support STEM education so they are A-OK in my book! During #CES2019 they ran a social media campaign to encourage us all to join them in increasing their donation to The Franklin Institute a science museum and STEM education supporter, in Philadelphia to help the underserved children further their education and their love for science.