Saturday, January 24 from noon to 4pm (in YOUR timezone) is time set aside to sit down and read for the National Read-a-thon Day as sponsored by the National Book Foundation whose mission is to expand the audience for literature in America.
At Read Science! Jeff and I want to encourage you to take some time to read a book of your choice that day in a show of support for literacy. You don't have to read science, as any reading is great for the mind. However, if you want to read some science, you can certainly look to us to help you make some great choices. Connect with us on Facebook if you want to start a discussion about books!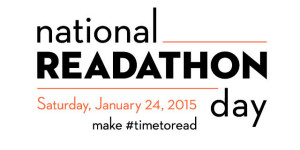 The Read-a-thon has a second purpose, and that is to raise money for various literacy projects of the National Book Foundation. Read Science! has set up a team and is collecting donations that go toward those projects and we'd be thrilled if you would choose our team to donate to the cause via our page, every little bit helps. Thank you!
If you don't follow the National Book Awards, you may not be aware that Read Science! guest, E.O. Wilson, was named as a finalist in nonfiction for his book, The Meaning of Existence.
Dr. Wilson was an incredible charming guest, with so much wisdom to share.
Feel free to let us know what you plan to read that day. I'm still deciding myself!