Anyone who follows me on social media knows of my predilection for popular science books (as well as other non-fiction and fiction, too!)
By my count, I read (or listened to) well over 75 books in 2016, including finally (FINALLY) reading and enjoying the science fiction classic Read Player One. What follows is a list of some of the favorites of the science variety I've read this year with a brief comment or two, and including a link to any Read Science! episode that would have been held with the author(s).
This list is not meant to show all non-fiction science books that were published in 2016. Naturally, as any other bibliophile would, I have a large stack remaining to be tackled.
Lab Girl by Hope Jahren. Hope graciously agreed to be on and episode of Read Science! (watch here) this year (wherein, amusingly, her office lights automatically turn off periodically as an energy saving measure). Her book is by far the most unique book I've read in the science non-fiction genre and in our interview she states how she set out to write something completely different. She alternates moving memoir-style chapters of her life/life-in-science alternating with transcendent and informative writing about plants. I loved it so much that after I read it, I also listened to it because she was the narrator, and since it was her story, it was a marvelous experience. Her book now joins my favorite science books of all time, The Immortal Life of Henrietta Lacks by Rebecca Skloot and The Emperor of All Maladies by Siddhartha Mukherjee.
Eccentric Orbits: The Iridium Story by John Bloom. This book caught my eye this summer because it was 'An Amazon Best Book of the Year So Far (Business & Investing)' and the WSJ also recommended it, so I straight out purchased it. While I'm not completely averse to business style books, they certainly wouldn't be my first choice. However, this book promised rockets, science and technology, so I took a chance. I hadn't closely followed the Iridium satellite events in the news during the years they were happening as I was raising my four young kids, so the book was essentially a refresher course.  Bloom's telling of the circumstances contained a plethora of players and numerous business and legal dealings which might have lost me in less deft storytelling hands, but I found myself enthralled by how he managed to weave the information together and bring the reader along so well without losing us in the midst of it all.
The Gene: An Intimate History by Siddhartha Mukherjee. In case it has not been made clear from tweets and during occasional Read Science! episode exclamations, Dr. Mukherjee's first book, The Emperor of All Maladies is practically my favorite book of all time. When I finished reading it, I mourned the end of the book for several days because I had immersed myself into it so completely. Anyone who reads knows this feeling all to well.
Was it possible I held my breath waiting six years for another masterpiece from Dr. Mukherjee? Well, of course not, because breathing is important. But, as a cell biologist teaching at a major research university, and teaching genomics nonetheless, I was excited to hear of his newest book, and curious to see how he approached a topic I am quite familiar with.  It covers the history of discovery across the entire field of DNA, genetics and genomics, and does it very well interspersed with a personal story of the genetics in his own family. It was a delight to read, and at over 600 pages, one would think he touched on all aspects of 'the gene', but since it is such an expansive and expanding field, inevitably some details are missing. I recommend following up with Kat Arney's Herding Hemingway's Cats (below) for some of the newest findings in genetics/genomics.
A Primate's Memoir: A Neuroscientist's Unconventional Life Among the Baboons by Robert Sapolsky. This book was not from 2016 (it was 2002), but I finally read it. I am no stranger to Robert Sapolsky's work and am a big fan of his humor and insights. His charming memoir should be required reading for all biologists and advanced primates everywhere. By the way, he has a new book called Behave: The Biology of Humans at Our Best and Worst  coming out in April 2017.
Rise of the Rocket Girls: The Women Who Propelled Us, From Missiles to the Moon to Mars by Nathalia Holt.  This book was a revelation to me as the fact that women did the calculations to help us double check the work of physicists and engineers who were creating rockets and missiles. Her book focuses on the ladies in California and the area that eventually became NASA's Jet Propulsion Lab. Her book predates the much talked about Hidden Figures.
Grunt: The Curious Science of Humans at War by Mary Roach. Our very first Read Science! guest joined us once again to talk about her latest book (watch here) which talks about how the human body and war, touching on topics such as hearing, sex, digestion,
I Contain Multitudes: The Microbes Within Us and a Grander View of Life by Ed Yong. Ed's work as a biology writer is top notch, as many of you may know from his work at The Atlantic, and previously at Discover. As he reveals to us in his appearance on Read Science! (watch here) he wasn't really planning on writing a book, but the topic of the microbiome inspired him to create this important, informative and inimitable work, replete with the humor he is known for in his other writings (including tweets).
How to Survive a Plague: The Inside Story of How Citizens and Science Tamed AIDS  by David France. Read Science! guest Steve Silberman (Neurotribes watch here) had tweeted about this book and the topic intrigued me. The storytelling in the book captivated and informed me to a level I'd not been before on the topic. All in all, I learned that activism works to further scientific research. I loved this book. One of my top faves in 2016.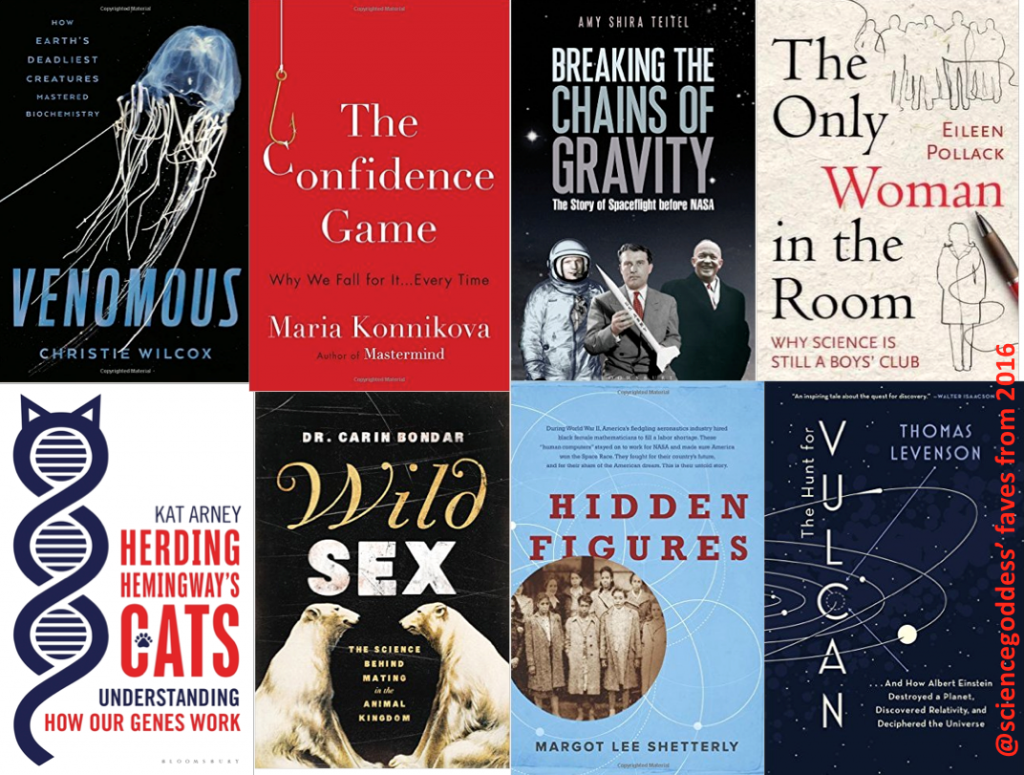 Moving on to the next 8 books among my favorites for 2016, I'm going to speed things along. Five of the eight listed above were Read Science guests so be sure to check out the episode if you are interested.
Venomous: How Earth's Deadliest Creatures Mastered Biochemistry by Christie Wilcox. You may know Christie from twitter (@NerdyChristie) and by her blog, Science Sushi. I really enjoyed her book, maybe moreso because I'm a cell biologist and since cells do biochemistry really well, I could appreciate her approach to explaining how toxins are produced in the animals that use them as defense and as the weapon in the unfortunate victim. She was a wonderful guest on Read Science! (watch here)
The Confidence Game: Why We Fall for It….Every Time by Maria Konnikova. A very interesting and practical book. If you or a loved one has ever fallen for a con (and really, who hasn't?), you will find the stories and science in the book riveting.  Maria kindly was a guest on Read Science! (vide0).
Breaking the Chains of Gravity: The Story of Spaceflight before NASA by Amy Shira Teitel. Amy is a prolific creator of fun spaceflight history videos and now a podcast. Her book came out in January but it took us a while to schedule her appearance on Read Science! (watch here). He book tells the story of rocket testing and the steps it took to get into space before NASA had their opportunity. It was a very interesting book.
The Only Woman in the Room: Why Science is Still a Boy's Club by Eileen Pollack. I'll be commenting further on this book in a future post about the prevalence of  books on women in science. Interesting first person account of the author's time trying to find her way as a physics student at Yale.
Herding Hemingway's Cats: Understanding How Our Genes Work by Kat Arney.  I know a lot about the science of genomics and genetics but learned a few new things by reading her book, as I pointed out in her appearance on Read Science! (watch here). Nearly every book on genes starts with Gregor Mendel, but she didn't and for that, I give her a high five. (Don't worry, it's still in the book!). Reading the book is like having a good friend explain the latest science in a very friendly and clear manner.
Wild Sex: The Science Behind Mating in the Animal Kingdom by Carin Bondar. Delightful, accessible and well, maybe blush inducing. See Carin's Read Science Interview.
Hidden Figures: The American Dream and the Untold Story of the Black Women Mathematicians Who Helped Win the Space Race by Margot Lee Shetterly.  This book was also made into a very good movie.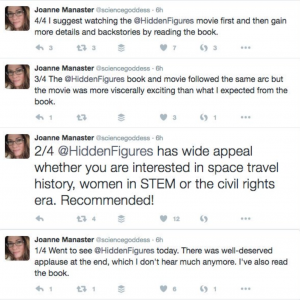 The Hunt for Vulcan…And How Einstein Destroyed a Planet, Discovered Relativity and Deciphered the Universe by Thomas Levenson  (From November 2015). When I read this book, I found myself thinking often, "Huh, who knew?" or "That was interesting. I had no idea." Thanks to Tom Levenson, I learned a bit of astronomical history I was previously unaware of in a very readable story.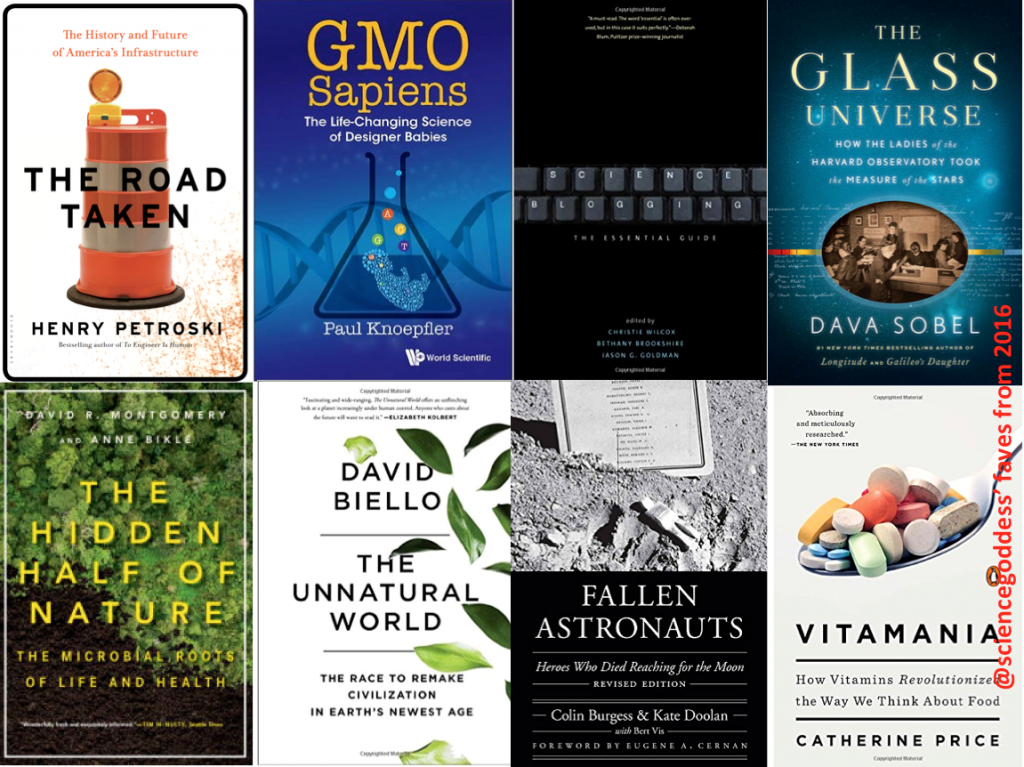 The Road Taken: The History and Future of America's Infrastructure by Henry Petroski  See Henry's Read Science! video.
GMO Sapiens: The Life Changing Science of Designer Babies by Paul Knoepfler See Paul's Read Science! video.
Science Blogging: The Essential Guide by Christie Wilcox, Bethany Brookshire and Jason Goldman See their Read Science! video.
Some other books I have enjoyed in 2016:
The Glass Universe: How the Ladies of the Harvard Observatory Took the Measure of the Stars by Dava Sobel
Hidden Half of Nature: The Microbial Roots of Life and Health by David Montgomery and Anne Bikle
Unnatural World: The Race to Remake Civilization in Earth's Newest Age by David Biello
Fall Astronauts: Heroes Who Died Reaching for the Moon by Colin Burgess and Kate Doolan
Vitamania: How Vitamins Revolutionized the Way We Think About Food by Catherine Price
I'm always happy to read and share the latest with you. Thanks so much for visiting!