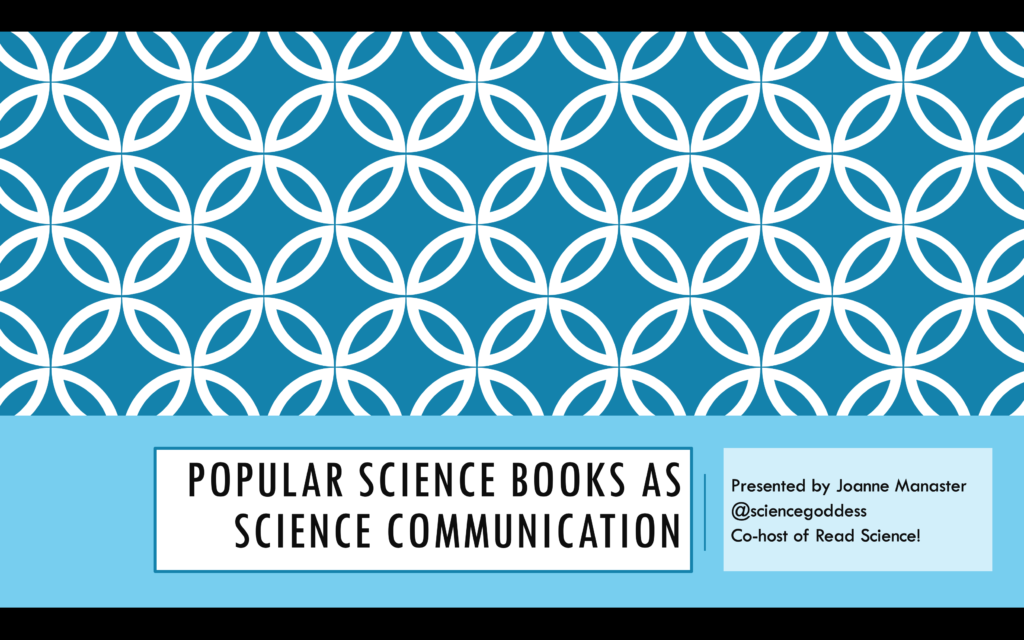 I am quite pleased to put my popular science book reading hobby/obsession to good use and give a 20 minute presentation to fellow science communicators at the Science Talk '19 conference.
Before I provide the list of books presented, many authored by women, you may be interested in the fact that I maintain a list of women science writers. Check that out at Women Science Book Writers.
I am also trying to be smart about keeping track of books that are coming out in 2019, and have that list at 2019 Science Books.
What follows are the books I shared at #SciTalk19 along with the category I assigned them to. Many of the books could fall into several categories and the categories are ones that I created and are not canon by any stretch.
There are so many books out there, and due to time constraints, surely I forgot some of your favorites! Thanks for understanding that I could not list even all of my favorites.
A good story: Emperor of All Maladies by Siddhartha Mukherjee
How Science is Done
Scientists Tell Us Their Story
Archival
Explainer/Larger Picture
Clarion Call
Relating to the Everyday
Overview
Historical Narrative/Coming of Age
Personal Narrative
Biographical
Perspectival
How-to, Q & A
Natural History/Field Guides
Illustrated Children's Books
Illustrated/Photos
Graphic Novels